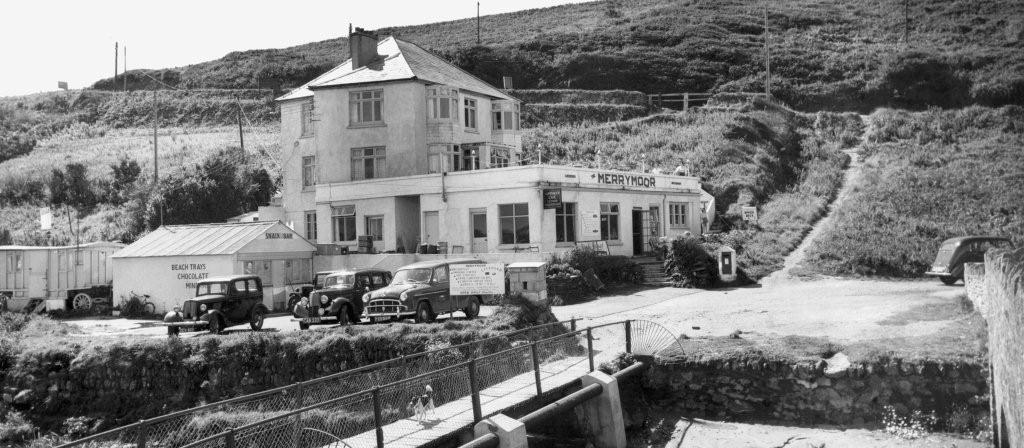 The Merrymoor Inn History
Orginally a snack bar and restaurant with accommodation, The Merrymoor was first acquired by Sidney and Hilda Evans, grandparents of current landlord Nick Bennett. They moved to Cornwall in 1961, obtained a full licence for a public house in 1964, and added an extension to increase letting rooms.
Regular customer and mechanical engineer Dudley Bennett married the Evans' daughter Lynne in 1969. The second generation subsequently moved on site and took over the running of the thriving pub whilst raising their two children, Sara and Nick. With Dudley as landlord, the Evans remained nearby in semi-retirement.
Growing up in a vibrant and busy pub, Nick recalls summers at Mawgan Porth as one big happy family of children, belonging to guests and locals, gathered on the beach surrounded by windbreaks.
With 11 rooms to let, and serving a simple food selection, Dudley developed the beer garden to the front of the property. Throughout the 1970s, 80s and 90s, the Bennetts diversified in response to market demand – altering rooms to en suite accommodation; combining the lounge and back bar into a family area; adding a serving counter in bar to take and prepare food orders, and building a new kitchen in 1996.
Despite pursuing their own careers, Sara in childcare and Nick in construction, they were drawn back to the business. Nick officially joined Dudley in 2006, overseeing and working hands on throughout the major 2007 downstairs bar area refurbishment.
Dudley, an exceptional charity fundraiser, was made a Member of the British Empire (MBE) in 2007, a source of immense pride to his family, regulars and the hardworking staff who are integral to The Merrymoor's success.
Like his father, Nick met his future wife, Jen, in the pub in 2008. They married in 2009 and with Alfie's arrival In 2010, have become the third and fourth generations to live at The Merrymoor. Jen launched the Emerald Beauty Salon in 2010 and a major accommodation refurbishment was completed in 2012.
For Three Generations our family has constantly provided good beer, good food and accommodation by the beach –  we will continue to do just that!
Nick Bennett